PLANERADE KULLAR
.


Vi planerar valpar efter Casino SEUCH PTCH PTJCH Big Brazzel Xtra Outstanding i januari-2019, valparna är klara för leverans i mars-2019
We are planning puppies after Casino SEUCH PTCH PTJCH Big Brazzel Xtra Outstanding in January-2019, the puppies are ready for delivery in March-2019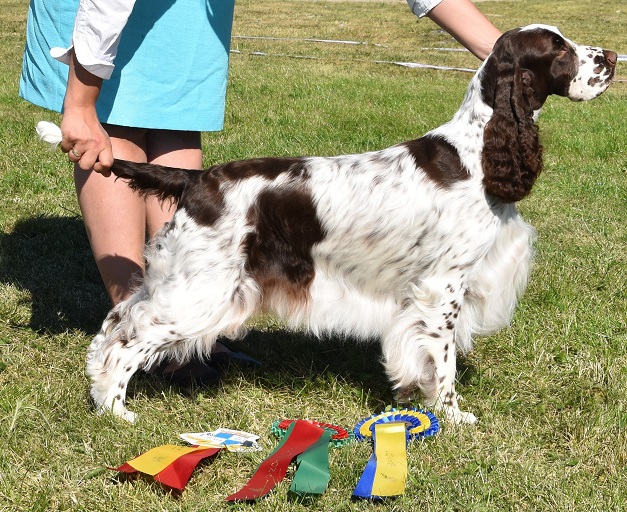 klicka på bilden för mer information om Casino /click on the tumbnail for more informations about Casino

Casino har fria höfter, A, är ögonlyst utan anmärkning och är fria från fucusidosanlag, är DNA testade för PRA Cord 1 och är fri
Casino has free hips, A, is eyes checked clear and free from fucosodosis, is DNA tested for PRA Cord 1 and is free.

Casino är brun och vit och är 5,5 år. detta blir hennes tredje valpkull. Hon är dotter till Chelsea och Amigo. Hon är en mycket trevlig och härlig tik och har man träffat Casino en gång blir man genast förälskad. När hon blir glad kan hon låta på ett mycket speciellt vis precis som hennes stora syster Cornelia, lillasyster Cashmir och sin mamma Chelsea. Hon har varit utlånad till goda vänner i Portugal då hon var ett år gamml det är därför hon är både portugisisk junior champion och portugisisk champion. Casino ha blivit BIG-3, blivit BIR tre gånger, hon har 2 cert i Sverige och några reserv-cert. Hon har 8 cert i Portugal varav 4 är junior cert. Hon har två CACIB och ett par reserv-CACIB. I slutet av augusti-2015 vann Casino BIR och blev BIG-3, hon fick sitt sista svenska cert och blev även svensk champion. Läs gärna mer om Casino på hennes egen sida under kennelns hundar.

Casino is brown and white and is 5.5 years old. This will be her third litter litter. She is daughter to Chelsea and Amigo. She is a very nice and lovely bitch and once you've met Casino once you get in love immediately. When she becomes happy, she can sound very special like her big sister Cornelia, little sister Cashmir and her mother Chelsea. She has been lent to good friends in Portugal when she was a year old that's why she is both Portuguese junior champion and Portuguese champion. Casino has become BIG-3, has become BOB three times, she has 2 CAC in Sweden and some reserve CAC. She has 8 CAC in Portugal, of which 4 are junior CAC. She has two CACIBs and a pair of reserve CACIBs. At the end of August 2015, Casino became BOB and became BIG-3, she got her last Swedish CAC and became Swedish champion. Read more about Casino on her own page under kennel's dogs.