PLANERADE KULLAR
.
Vi väntar valpar efter "Cola" Big Brazzel Kiss Kiss Bang Bang och "Cooper" CIE SEU(U)CH EECH LITCH Big Brazzel Higher And Higher, i slutet av september, med leverans i slutet av november-2018
We are waiting puppies after "Cola" Big Brazzel Kiss Kiss Bang Bang and "Cooper" CIE SEU(U)CH EECH LITCH Big Brazzel Higher And Higher, in the end of September, with delivery in the end of November-2018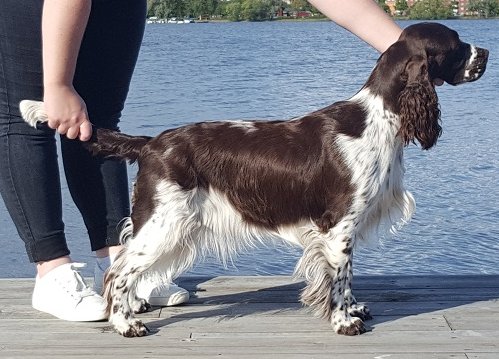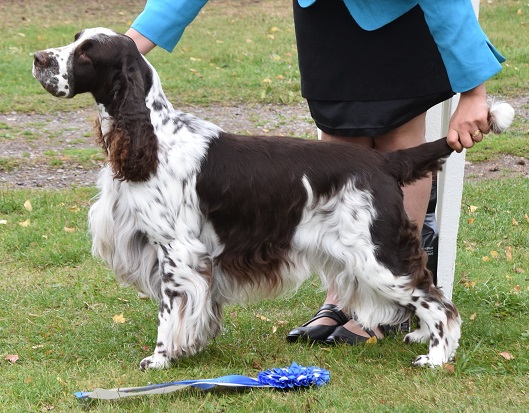 klicka på bilden för mer information om Cola och Cooper /click on the tumbnail for more informations about Cola and Cooper

Cola och Boss har fria höfter, är ögonlysta utan anmärkning och är fria från fucusidosanlag, båda är DNA testade för PRA Cord 1 och är fria
Cola and Boss have free hips, are eyes checked clear and free from fucosodosis, both are DNA tested for PRA Cord 1 and are free.

Cola är brun och vit och är två och ett halvt år. Cola är utställd mycket sparsamt och har excellent på utställning. Hon har tränas i agility och är mycket läraktig och framåt. Hon är dotter till Cecilia (CH Big Brazzel Every Time We Touch) och Cody (CH Big Brazzel Back In Business)

Cola is brown and white and is 2,5 years old. Cola is very sparse showed but has excellent at show. She is trained in agility and is very educational and forward. She is daughter of Cecilia (CH Big Brazzel Every Time We Touch) and Cody (CH Big Brazzel Back In Business)

Cooper är brun och vit och är 7 år gammal. Han är född på kenneln men bor sedan ett antal år på kennel Cyperspring. Han är son till Chelsea (CH Big Brazzel Born To Be Wld) och bror till Cornelia (CH Big Brazel Hot Sensation). Cooper är internationell utställningschampion, svensk, lithauisk och estnisk utställningschampion. Han blev 2012 kvalificerad till årets valp. 2015 och 2017 blev han kvalificerad till Cruft. Han har klarat anlagsprovet i viltspår. Han har genomfört BPH med skott. Han har blivit BIG-2, blivit BIR 3 gånger och BIM 11 gånger. Han har 10 cert och 7 CACIB mm. Cooper är lugn som en filbunke och mycket trygg i sig själv. Han har haft ett antal valpkullar tidigare med lugna, vackra och trygga valpar.

Cooper is brown and white and is 7 years old. He has been born at the kennel but has lived for a number of years on kennel Cyperspring. He is son to Chelsea (Ch Born To Be Wild) and brother to Cornelia (Ch Big Brazze Hot Sensation). Cooper is international show champion, Swedish, Lithuanian and Estonian show champion. He was 2012 qualified for puppy of the year. In 2015 and 2017 he became qualified for Cruft. He has passed the field test in tracking. He has passed BPH with shots. He has become BIG-2, has been BOB 3 times and BOS 11 times. He has 10 CAC and 7 CACIB and so on. Cooper is calm as a file stack and very safe in himself. He has had a couple of litters before with calm, beautiful and safe puppies.


Om du är intresserad av en valp från oss så hör gärna av dig för mer information.
If you are interested in purchasing a puppy from one of our litters you are more than welcome to call or e-mail us for more information.



Vi har fri prövningsrätt när vi säljer våra hundar/valpar. Detta innebär att vi förbehåller oss
rätten att neka en spekulant om vi tror att han/hon inte passar för våra hundar/valpar.

We have free jurisdiction when we sell our puppies. This means that we reserve the
right to refuse a speculator if we believe that he/she is not right for our puppies/dogs.
Valparna levereras tidigast vid 8 veckors ålder. De är då registrerade i Svenska Kennelklubben, ID-märkta, veterinärbesiktigade och vaccinerade mot parvo, valpsjukan och kennelhosta samt avmaskade tre gånger. Valparna är trimmade och badade innan de levereras.
Valparna är försäkrade för eventuellt dolda fel (gäller i 3 år) hos Svelands försäkringsbolag.
Vidare är du som valpköpare välkommen att under första året få gratis trimning av din valp hos oss. Då kan du även passa på att själv lära dig att trimma din hund. Som hjälp att lyckas med en bra trimning får du även vår trimfilm på en DVD-skiva där vi demonstrerar en hel trimning på en springer.
När du hämtar din valp får du givetvis med dig skötselråd som inkluderar matlista och skriftlig information om valpens första tid hos oss. Du får även med dig 1 kilo av den mat som valpen har ätit hos oss, Mera Dog Puppy. Vidare får valpen med sig en skön vettbädd eller dyl att sova på samt en leksak och en CD-skiva med bilder från valpens första veckor hos oss.

Våra Old English Sheepdog valpar kommer även att ögonlysas innan leverans


Puppies are ready for delivery no sooner than 8 weeks old. At that time they will be registreted in the Swedish Kennel Club, ID marked with chip, vetcontrolled as well as vaccinated for parvo, distemper and kennel cough. They will be groomed and washed before they are delivered.

When you purchase a dog from us at Big Brazzel you are welcomed for free grooming of your dog during the first year. To help you learn more about your dog grooming needs, you will also be given a DVD where we demonstrate an entire grooming of an English Springer Spaniel.

When you get to take your dog home you will of course get a pamphlet on how to nurture your puppy. This also includes a list of preaproved dogfoods as well as written information about your puppy´s first time and development during his or her time with us. You will also recieve a bag with at least 1 kilo (2 lbs) of the food your puppy has eaten here with us, called Mera Dog puppy.

And last but not least you will also get to take home a wetbed or similar for your puppy to sleep on. This has been rubbed on his or her mother as a way to bring comfort as it becomes a part of it´s new family. You will also get a CD including photoes from the puppies first time with us.

The puppies are insured in case of hidden faults during their 3 first years.
Kontakta oss gärna för mer information om våra planerade kullar:
Katarina Rosenblad
Andrea Rosenblad
Gränsvägen 110
163 52 SPÅNGA
Tel. 08-760 95 13 mobil tel. 073-990 60 66
E-mail bigbrazzel@comhem.se Katarina.Rosenblad@comhem.se
Senast uppdaterad: 2018-07-27