AKTUELLA KULLAR
| | | |
| --- | --- | --- |
| | | |
Vi väntar valpar efter "Cornelia" CIE SEU(U)CH ESTCH Big Brazzel Hot Sensation och "Noah" Aust CH GBSH Sandicam The Look Of Love i början av oktober, med leverans i slutet av november 2017
We are waiting puppies after "Cornelia" CIE SEU(U)CH ESTCH Big Brazzel Hot Sensation and "Noah" Aust CH GBSH Sandicam The Look Of Love in the beginning of October, with delvivery in the end of November 2017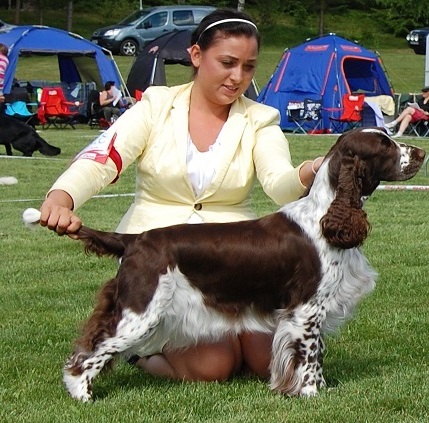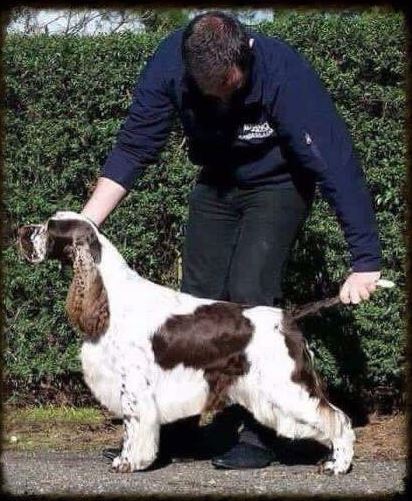 klicka på bilden för mer information om Cornelia och Noah /click on the tumbnail for more informations about Cornelia and Noah
Cornelia och Noah har fria höfter, A, är ögonlysta utan anmärkning och är fria från fucusidosanlag, båda är DNA testade för PRA Cord 1 och fria
Both Cornelia Noah has free hips, A, are eyes checked clear and are free from fucosodosis. Both dogs are DNA tested for PRA Cord 1 and free.

Cornelia är brun och vit och är drygt 5 år gammal, detta blir hennes tredje valpkull, (bilder från hennes tidigare valpkullar kan ses under tidigare valpkullar) hon är dotter till "Egon" CIE, SV-04, SVCH, SU(u)CH, NORDCH, NORDV-06, VWW-10 Trollängens Maximum Effekt och "Chelsea" SEU(U)CH Big Brazzel Born To Be Wild. Cornelia är en lugn och behaglig tjej som tar livet med ro. Hon är internationell utställningschampion, svensk utställningschampion oh estnisk utställningschampion. Hon har blivit BIS-2, BIG-2 och har blivit BIR 5 gånger och BIM två gånger. Hon har 5 CACIB, varav ett i Finland och ett i Estland, 2 reserv-CACIB, 8 Cert varav ett i Finland och ett i Esland och 4 reserv-cert.

Noah är en trevlig och glad kille på tre år. Han är född i Australien och är trots sin unga ålder är han redan Multichampion. Han har varit i England i några månader och ställts ut 8 gånger och blivit BIR alla dessa gånger. På fem veckor i England blev han Engelsk champion i rasens hemland. Han blev 2016 års top show springer i England. Han har vunnit många best i show bland annat i Wales där fler än 7000 hundar var anmälda. I slutet av 2016 var han på Irland och blev Best in show igen. Noah har lämnat mycket fina, trevliga och vackra avkommor efter sig i Australien.

Cornelia is brown and white and is little bit more than 5 years old, this wil be her third litter, (see photos of her first two litters unders previous litter) she is daughter to "Egon" CIE, SV-04, SVCH, SU(u)CH, NORDCH, NORDV-06, VWW-10 Trollängens Maximum Effekt and "Chelsea" SEU(U)CH Big Brazzel Born To Be Wild. Cornelia is a calm and pleasant girl. She is International show champion, Swedish show champion and Estonian show champion she has been BIS-2, BIG-2, she has 5 BOB and 2 BOS. She has 5 CACIB (1 in Finland and 1 in Estonia) and 3 reserve-CACIB, 8 CAC (one in Finland and one in Estonia) and 4 reserve-CAC

Noah is a nice and happy boy and he is three years old. He was born in Australia and despite his young age he is already Multichampion. He has been in England for a few months and been on 8 shows and become BOB all these times. In five weeks in England, he was English champion in the breed's homeland. He becme 2016 top show ESS in England. He has won many best in show afor exampel in Wales, where more than 7000 dogs were entered. In late 2016 he was in Ireland and became Best in Show again. Noah has left very fine, nice and beautiful offspring in Australia.



Vi väntar valpar efter Carousel CIE LITCH (SEU(U)CH Big Brazzel Daydreamer) och "Diezel" SEU(U)CH NOUCH DKCH(U) NORD UCH C.I.E SE VCH Springdust´s About Rhythm i början av oktober med leverans i slutet av november 2017
We are waiting puppies after Carousel CIE LITCH (SEU(U)CH Big Brazzel Daydreamer) and "Diezel" SEU(U)CH NOUCH DKCH(U) NORD UCH C.I.E SE VCH Springdust´s About Rhythm in the beginning of October with delivery in the end of November 2017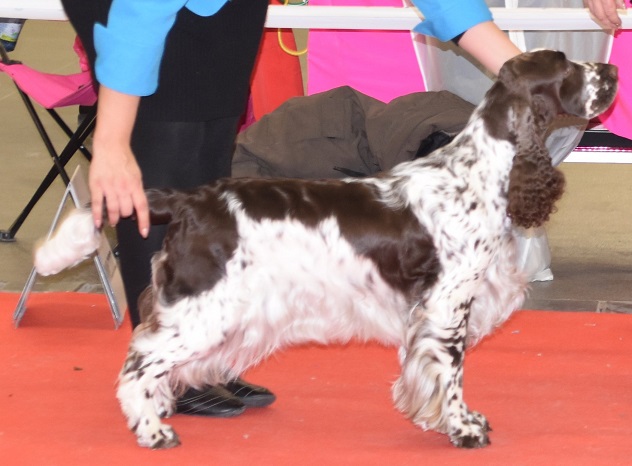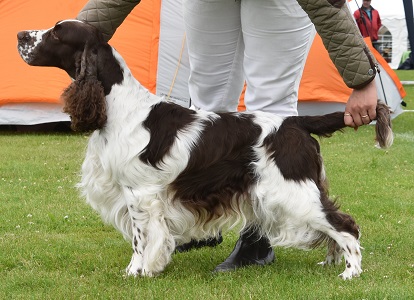 <!Start Text under bilderna på föräldrarna_____________________________________________________________________________________________________________________________________________________________________________________________.> (Klicka på bilderna för att få mer information om hundarna/click on the tumbnails for more informations about Carousel and)


Carousel eller Carro som hon kallas är 3 år gammal. Hon är kennelns lugnaste hund och tar livet som det kommer. Hon är brun och vit och kommer från mycket spännande och välkända linjer, hon är dotter till Cody och Caitlin. Carro är svensk utställningschampion, Lithauisk utställningschampion och internationell utställningschampion. Hon har blivit BIR två gånger och BIM 3 gånger. Hon har 4 CACIB, 2 reserv-CACIB, 11 Cert och 6 reserv-Cert. Läs gärna mer om Carro på hennes egen sida under kennels hundar

Diezel är son till Daffy som är född på kenneln, så det ska blir roligt att använda våra gamla linjer. Diezel är brun och vit och är 4 år gammal. Han är internationell, nordisk, svensk, dansk och norsk utställningschampoin och även viltspårschampion. Han har blivit Springer Mellan Sveriges utställningshund 2014 och 2015 och Värmlands utställningshund alla raser-2015. Diezel är mycket mjuk i sitt temperament och fungerar bra med alla sorters hundar stora som små. Han har stor apporteringslust och älskar att bära omkring på saker. Läs gärna mer om Diezel på kennel Springdust

Carousel or Carro as she is called is 3 years old. She is the kennels calmest dog and take life as it comes. She is brown and white and come from very exciting and well-known lines, she is daughter to Cody and Caitlin. Carro is Swedish show champion, Lithuanian show champion and International show champion. She have become BOB two times and BOS 3 times. She has 11 CAC and four reserve-CAC. She has four CACIB and 2 reserve-CACIB.. Read more about Carro on her own page under our dogs
Diezel is son to Daffy, who is born at the kennel, so it should be fun to use our old lines. Diezel is brown and white and is 4 years old. He is international, Nordic, Swedish, Danish and Norwegian show champoin and also Tracking champion. He is also Mid Swedes show ESS 2014 and 2015 and Värmland show dog all breeds-2015. Diezel is very soft in his temperament and works well with all kinds of dogs, big and small. He has great retrieving desire and love to carry around things. Read more about Diezel at kennel Springdust
Om du är intresserad av en valp från oss så hör gärna av dig för mer information.
If you are interested in purchasing a puppy from one of our litters you are more than welcome to call or e-mail me for more information
Valparna levereras tidigast vid 8 veckors ålder. De är då registrerade i Svenska Kennelklubben, ID-märkta, veterinärbesiktigade och vaccinerade mot parvo, valpsjukan och kennelhosta samt avmaskade tre gånger. Valparna är trimmade och badade innan de levereras.
Valparna är försäkrade för eventuellt dolda fel (gäller i 3 år) hos Svelands försäkringsbolag.
Vidare är du som valpköpare välkommen att under första året få gratis trimning av din valp hos oss. Då kan du även passa på att själv lära dig att trimma din hund. Som hjälp att lyckas med en bra trimning får du även vår trimfilm på en DVD-skiva där vi demonstrerar en hel trimning på en springer.
När du hämtar din valp får du givetvis med dig skötselråd som inkluderar matlista och skriftlig information om valpens första tid hos oss. Du får även med dig 1 kilo av den mat som valpen har ätit hos oss, Precept puppy plus. Vidare får valpen med sig en skön vettbädd eller dyl att sova på samt en leksak och en CD-skiva med bilder från valpens första veckor hos oss.

Våra Old English Sheepdog valpar kommer även att ögonlysas innan leverans